Our Goals | History | Ensemble
Through our music, our interaction with each other and with host families, and through the spoken word, eurobrass seeks to achieve the following five goals:
#1 Worship
Together with other Christians we enter into the presence of God and magnify his name.
#2 Evangelism
We identify ourselves as believers in Jesus Christ and seek opportunities to share that faith.
#3 Encouragement of believers
We help carry the burden of believers where we serve and desire to see them renewed and refreshed. Our concerts and workshops also provide new motivation for local church brass choirs.
#4 Personal, spiritual and musical growth of eurobrass members
In addition to the musical challenge, we also commit ourselves to the mutual nurturing and encouragement of our fellow team members.
#5 Support of like-minded organizations in Germany
Through cooperative efforts and, when possible, financial assistance we support the work of other organizations in Germany with which we share a common bond.
The history of eurobrass dates back to 1972, when musician Julian Bandy left his home in the United States for Germany. Julian served as a teacher at the German Bible Institute in Seeheim-Jugenheim, where he established a music department to complement the Institute's programs in church work and missions. In 1978 Julian and a few brass-playing friends came together to form the first eurobrass ensemble.
Within a few years, the ensemble expanded beyond Julian's circle of friends to include college students willing to devote their summers to the eight-week tour. In addition to concerts, Julian and the ensemble offered a brass seminar each summer for German musicians. The instrumentation of early ensembles differed – varying numbers of brass players, sometimes including organ.
New leadership
In 1993 eurobrass faced the unexpected death of its founder and leader, Julian Bandy. Two members of the ensemble took on leadership roles to continue the ministry of eurobrass: Angie Hunter and Chris Woods. Angie Hunter studied euphonium in the USA and trombone in Germany; until 2008 she served on the music staff of the German Bible Institute. Chris Woods lives in the USA, where he is an emeritus music faculty member at Greenville University, Illinois.
New tour structure
In 1999 eurobrass standardized its tour structure and instrumentation. The ensemble now consists of twelve musicians who participate in an annual three-week tour. The performers include both professional musicians and advanced college music majors from the USA and Germany. The current instrumentation—four trumpets, three horns, three trombones, one euphonium, and tuba – allows for great flexibility. eurobrass performs music from different genres and eras, offering a wide range of musical colors. The concert program changes yearly with our expanding repertoire.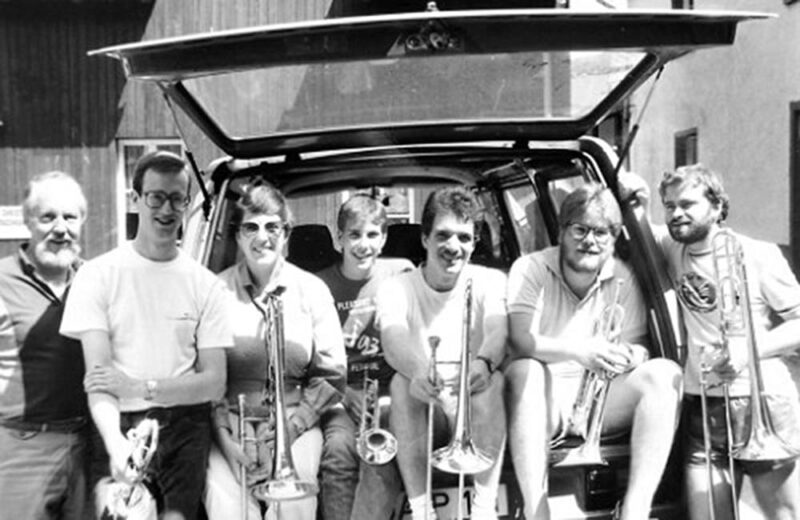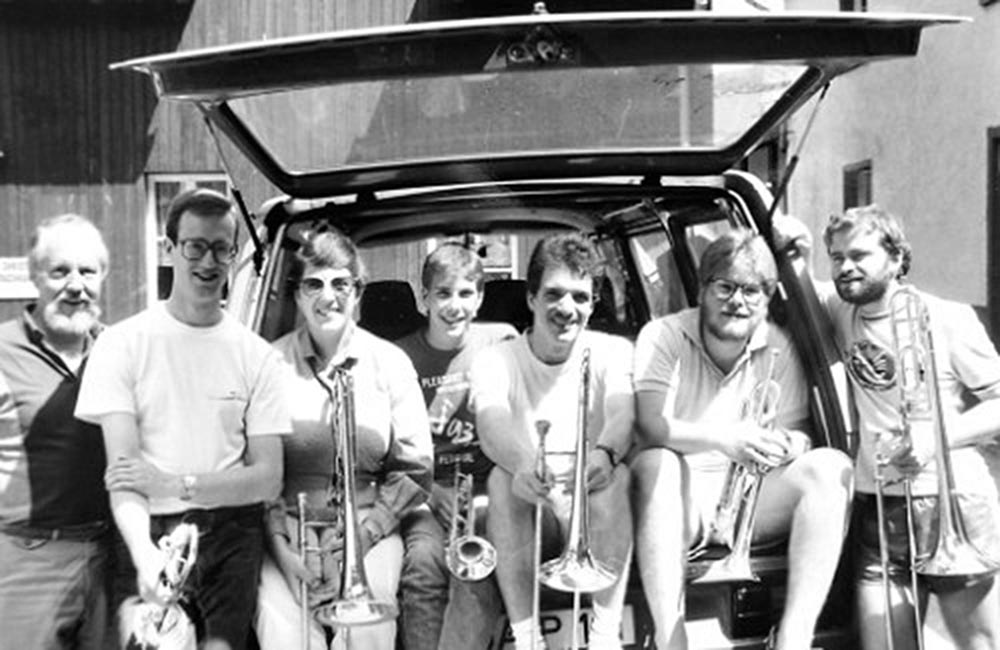 The 1987 eurobrass Ensemble. From left to right: Julian Bandy, Ted Griswold, Angie Hunter, David Love, Steffen Happel, John Barcanic, Matthias Müller
Carrying on a rich inheritance
Founding of the eurobrass nonprofit
For over thirty years eurobrass remained a ministry arm of the German Bible Institute. As both eurobrass and GBI continued to grow and change, it became apparent that a new organizational structure was needed to carry the ministry of eurobrass forward. To that end, the nonprofit organization "eurobrass – music that goes beyond" was formed in March 2009, with Angie Hunter as its chairperson.
The eurobrass ensemble is the flagship of the nonprofit. In addition to the annual concert tour, the nonprofit offers leadership for brass choir rehearsals and workshops, creative worship services, and instrumental performances in church services and concerts. Through these and other related activities, eurobrass works year-round to support German brass players seeking to serve God and their local churches through music.
Growth of the leadership team
In 2018 the eurobrass leadership team doubled in size as ensemble members Kathryn Cheney and Ben Roundtree began the transition into leadership roles. Kathryn Cheney studied trumpet and worked as a church musician and music teacher in the United States before moving to Germany to join forces with eurobrass full-time. Tubist/bass trombonist, composer, and church musician Ben Roundtree and his family also live in Germany. In addition to his work with eurobrass, Ben and his wife Erin perform on handbells as the BellTree Duo. Angie, Chris, Ben, and Kathryn work together in praying, planning, and leading the ensemble. Chris and Ben also write most of the group's arrangements. 
The joy of music
eurobrass performs nationally and internationally, to date in fourteen German states, Switzerland, and the USA. In addition to its annual concert tour, the ensemble has produced six CDs, available as mp3 downloads from Gerth Medien. These recordings document the impressive quality and breadth of the ensemble since 1996. More than 100 musicians have participated in eurobrass, with many returning for multiple tours. Each year an average of 4,000 enthusiastic listeners attend eurobrass concerts, as the ensemble continues to grow in popularity and prominence.
Rooted in faith
In all of this – both our 40-year-history and our present – we see God's hand at work leading, carrying, and blessing this ministry. We honor our rich heritage and carry it on with joy, a deep sense of responsibility, and ongoing dependence on God. As an ensemble and an organization, we strive to communicate God's greatness and goodness in such a way that our listeners recognize and experience the love of their Creator.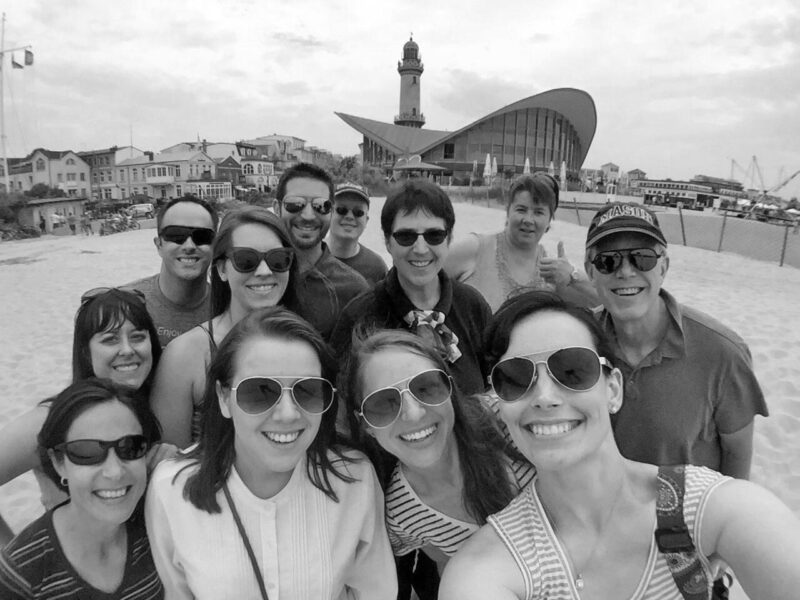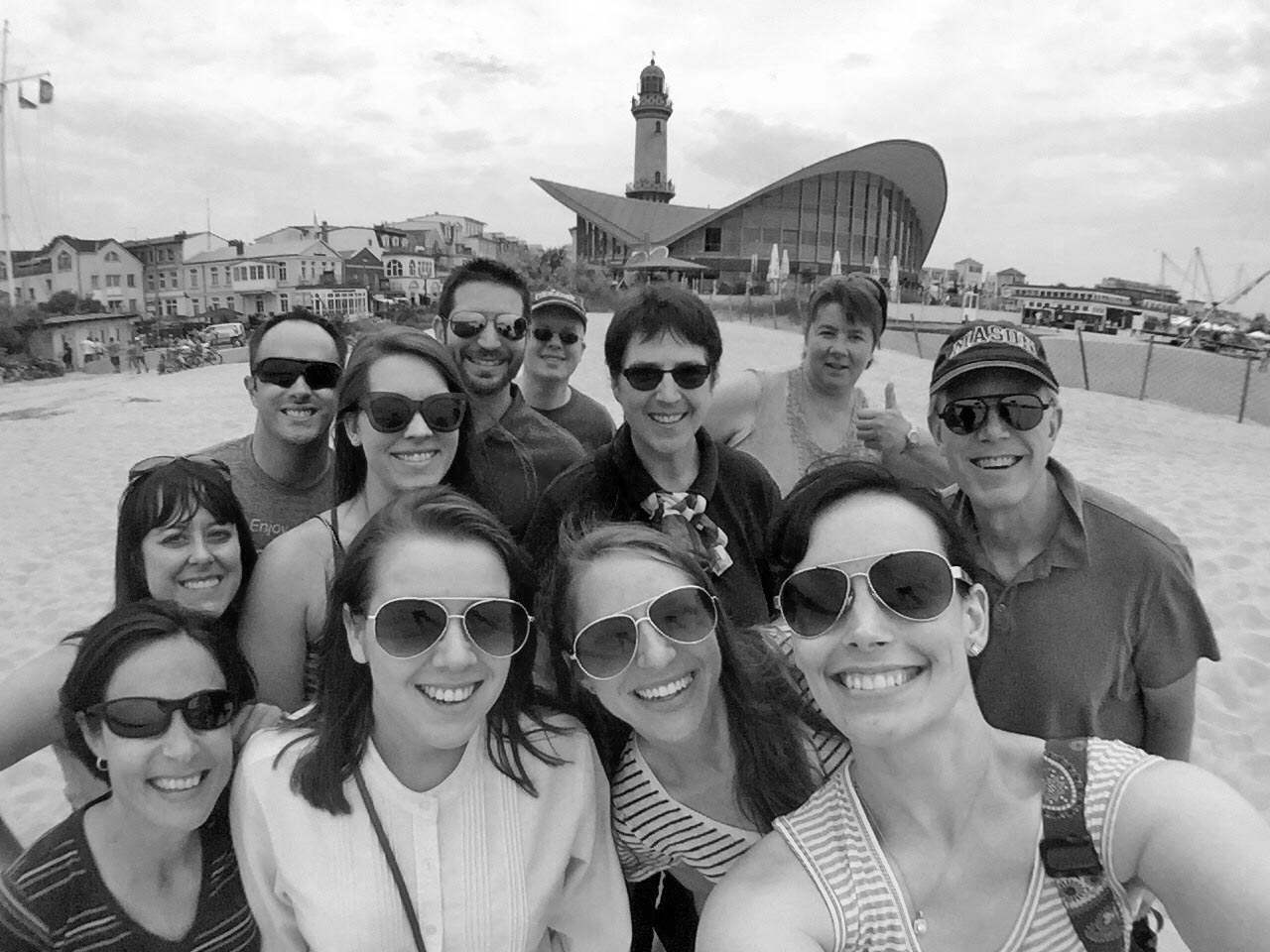 The 2016 eurobrass Ensemble on the beach in Warnemünde
The 2023 eurobrass Ensemble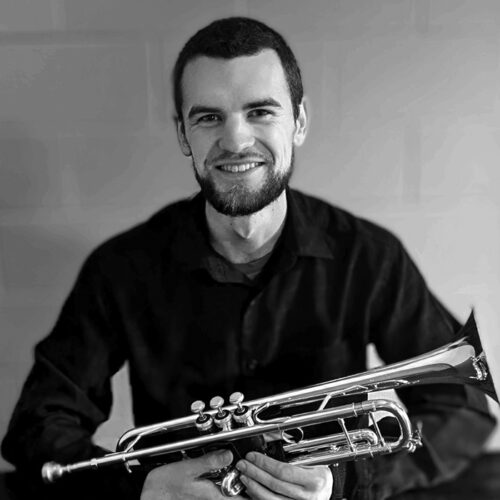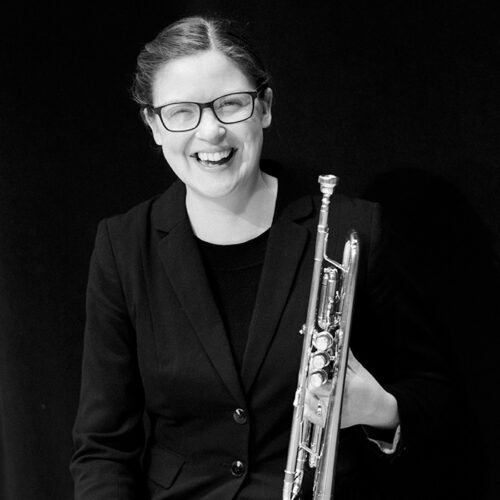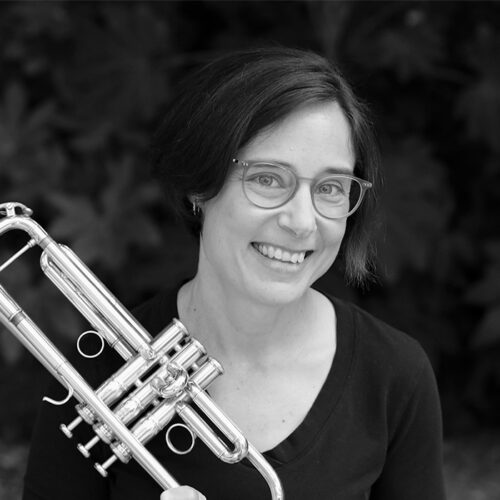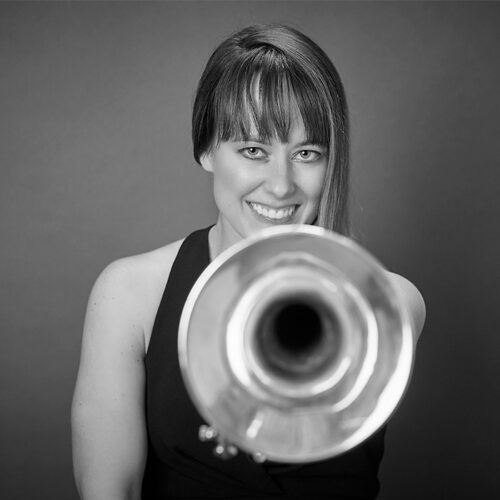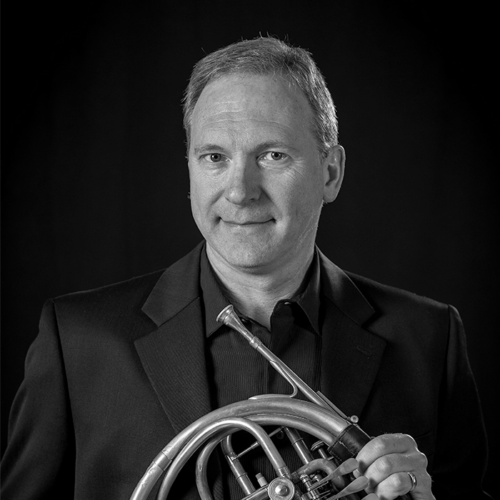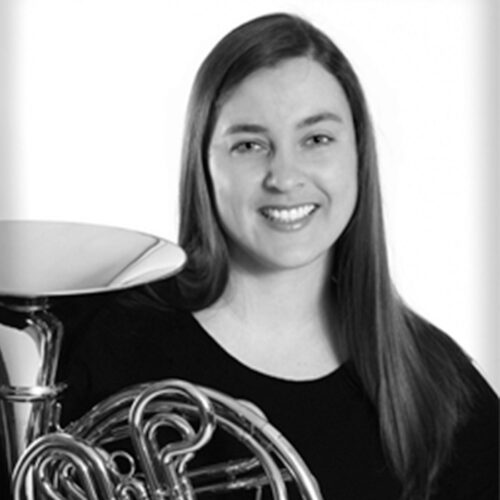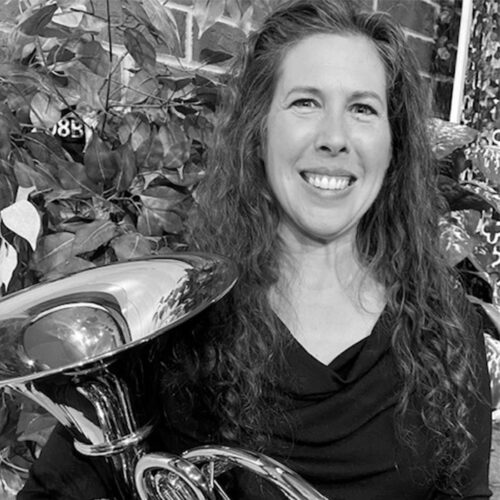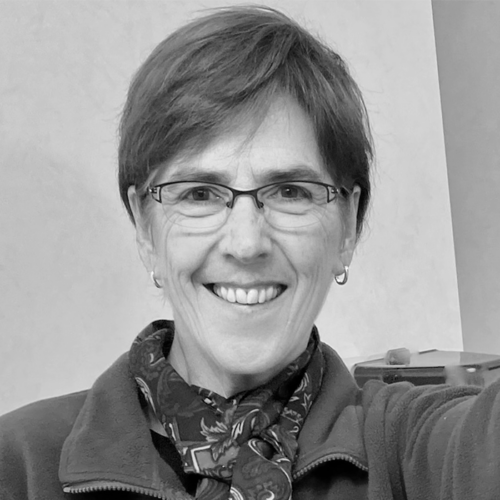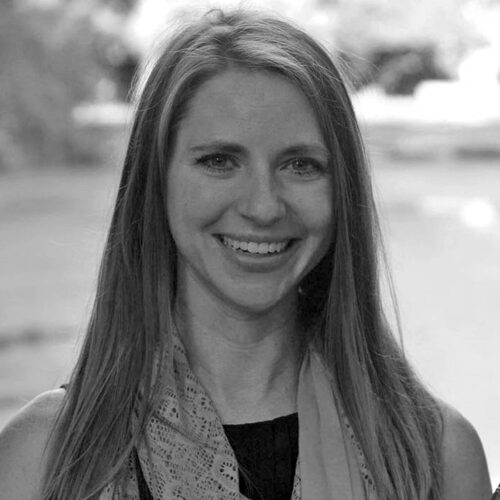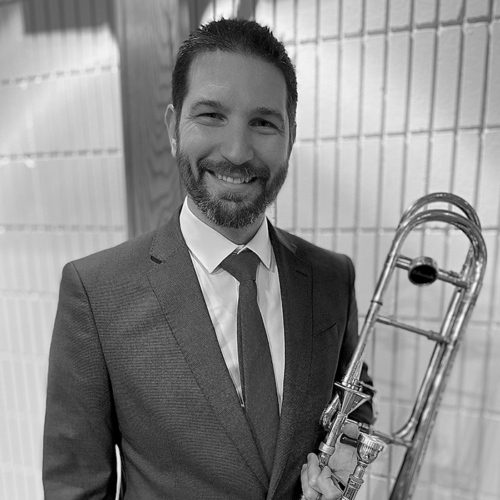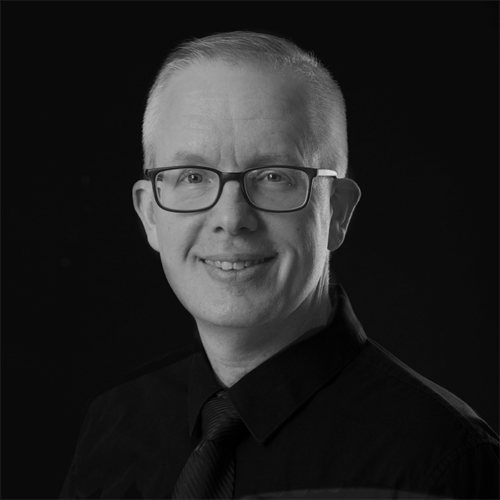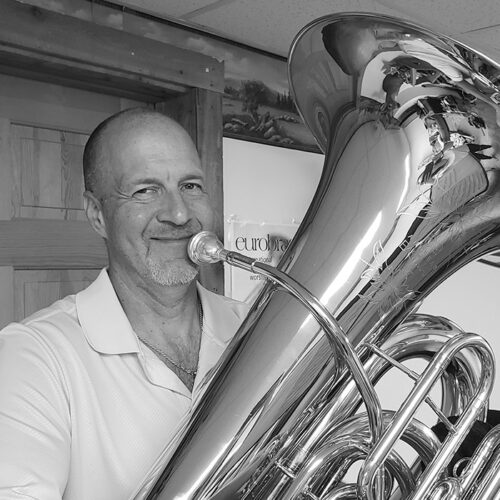 Riley Baisch
Manassas, VA
Riley is the newest member of the 2023 ensemble – when another musician couldn't make it at the last minute, he jumped in with one day's notice. A native of Manassas, VA, Riley now works as a musician and music educator in northern Virginia.
Trumpet
Deborah Caldwell
Cape Girardeau, MO
A native of Siloam Springs, Arkansas, Deborah Caldwell will begin fall 2023 as the new Assistant Professor of Trumpet at Southeast Missouri State University. She has also worked at Erskine College (South Carolina) and Frostburg State University (Maryland). Deborah studied at the University of Georgia, Kansas State University, and Ouachita Baptist University and completed a national tour with Tim Zimmerman and the King's Brass in 2021. She has worked at Interlochen Arts Camp and Blue Lake Fine Arts Camp and has conducted ensembles throughout the US and in South Korea. Whether she's performing in the US or abroad, Deborah is grateful for opportunities to bring people together around music. When not doing musical things, she enjoys watching football, working jigsaw puzzles, watercolor painting, photography, and traveling.
Years with eurobrass: 2023
Trumpet
Kathryn Cheney
Bötzingen, Germany
Kathryn Cheney grew up surrounded by music: her parents are active amateur musicians who sang and played in church choirs and orchestras, as well as playing with dance bands and other ensembles. Kathryn followed in their footsteps, coaxing her first notes out of the trumpet under her father's instruction. She went on to study trumpet at the University of Georgia and Ithaca College before spending 12 years performing, teaching, and working as a church musician in the Augusta, GA area. Kathryn joined eurobrass for the first time in 2012 and liked it so much, she decided to do it forever: In 2017 she moved to Germany to join the eurobrass leadership team. She now lives in Bötzingen, in southwest Germany's Kaiserstuhl region, where she enjoys hiking in the local vineyards and continuing to follow her favorite American sports teams.
Years with eurobrass: 2012–2019, 2021–23; Workshop 2012, 2015, 2018
Trumpet
Sarah Stoneback
Belgrade, MT
Sarah Stoneback is an innovative and exuberant performer with over twenty years of professional performing experience. Sarah is currently the Trumpet Professor at Montana State University and Principal Trumpet with the Bozeman Symphony. As a Conn-Seller Bach Clinician, Sarah presents educational workshops at all levels. As an active trumpet soloist, chamber musician, and orchestral performer, she has frequented stages throughout the United States, Europe, China, and Chile. She has been featured with groups including the National Brass Quintet, the Denver Municipal Band, the Montana State University Band, and numerous high school bands throughout the United States. She is one of the founding members of the Bobcat Brass Trio, comprised of the trumpet, horn, and trombone professors at the Montana State University School of Music. You can catch Sarah as featured trumpet soloist and chamber musician in the 2022–23 season of the PBS show 11th & Grant.
Years with eurobrass: 2011, 2013–14, 2016, 2019, 2023, Workshop 2018
Horn
Stephen Foster
Jackson, MI
Hornist Stephen Foster has had an interest in music from a young age. At the age of three, upon hearing a violinist play in church, he stood up on the pew, enraptured, and told his mother, "I am going to play that someday." This was the beginning of many years of violin lessons, which led to horn playing when school band was the only option. He went on to receive undergraduate degrees in Horn Performance and Music Theory from Western Michigan University and a Masters in Horn Performance from Rice University in Houston, Texas. Stephen and his wife, Shelby, have two university-aged children, Stephen and Michael Lynne, and live in Jackson, Michigan. He plays horn in local symphonies in Jackson and Lansing and has worked for 25 years as a project manager for a family-owned fire protection contractor.
Years with eurobrass: 2022–23
Horn
Kelly Haselhuhn
Lena, WI
Kelly Haselhuhn plays 3rd horn in the Marquette Symphony Orchestra and also enjoys playing in numerous other ensembles in her region. Her passion for sharing the gospel through music motivates her to direct her church choir; for the last two years she has also conducted community Easter cantatas with vocalists and instrumentalists from multiple congregations. Her collegiate training includes studies in music education at Cornerstone University (Michigan) and horn performance at Baylor University and Duquesne University. Whether fishing, gardening, listening to songbirds, or chatting around the fire, Kelly and her husband, Adam, cherish time together with friends and family.
Years with eurobrass: 2012, 2018, 2023
Horn
Beth Lunt
Gaithersburg, MD
Beth Lunt grew up in central Pennsylvania and began studying horn in 5th grade. She credits her musical family, a music-loving church, and incredible teachers and band directors during her school years for the inspiration to pursue a career in music. She earned a BMusEd and BS in Bible from Cairn University (Philadelphia College of Bible) and a MMus in Horn Performance from the Peabody Conservatory of Music. Beth has taught classroom music, choir, and band at the elementary and middle school levels. In recent years, she has enjoyed teaching private lessons to piano and horn students and freelancing in the Baltimore-D.C. area. Beth and her husband, Kipp, live in Gaithersburg, MD, where they enjoy hiking and bird watching.
Years with eurobrass: 1992, 1995–99, 2002, 2014, 2017–19, 2023, Workshop 2018
Trombone and Euphonium
Angie Hunter
Greenwich, OH
eurobrass co-leader Angie Hunter has the privilege of calling two countries home: She was born and raised in the USA and later lived almost 27 years in Germany. She is similarly at home with the two instruments she plays with eurobrass. She took to the euphonium first, obtaining degrees in music from Bowling Green State University and the University of Illinois. Along the way she picked up trombone, completing postgraduate studies at the Staatliche Hochschule für Musik in Trossingen, Germany. Angie provides leadership for the nonprofit organizations "eurobrass—music that goes beyond" and Vivace Arts, a Christian arts academy in rural Ohio.
Years with eurobrass: 1985–2019, 2021–23; Workshop 2009, 2012, 2015, 2018
Trombone
Amanda Kana
Fort Worth, TX
A passionate trombonist and dedicated music educator, Amanda Kana maintains an active schedule in the Dallas-Fort Worth Metroplex and beyond. As a member of Center Stage Brass and the Coal Hill Quartet, the has appeared in recitals and performances throughout the state of Texas, including showcase performances at conferences of the Texas Music Educators Association, the International Trombone Festival, and the International Trumpet Guild. She maintains a successful private studio that boasts over seventy students who consistently earn top placement in honor bands and solo competitions. Amanda received a Bachelor of Arts in Mathematics from Baylor University, Texas, and a Master of Music in Trombone Performance from Texas Christian University.
Years with eurobrass: 2016–2019, 2022–23; Workshop 2018
Trombone
Nathan LeFeber
Kearney, NE
A Nebraska native, Nathan LeFeber received a Bachelor's degree in Music Education from the University of Nebraska at Lincoln and a Master's degree in Trombone Performance from the University of Iowa at Iowa City. He has been teaching instrumental music since 2003 and has been the band director at Kearney High School since 2011. Nathan has also performed on trombone with a number of professional ensembles including the Kearney Symphony Orchestra, Hastings Symphony, Plymouth Brass, Flatwater Jazz Orchestra, and the Kearney Jazz Society. Nathan is passionate about imparting his love of music, faith, and family to his students. He has been married to his high school sweetheart, Julie, for nearly two decades, and they have four children: Evelyn, Sylvia, Abraham, and Mordecai.
Years with eurobrass: 2016–2019, 2022–23
Bass Trombone
Ben Roundtree
Rötenberg, Germany
Tubist, Bass Trombonist, and composer Ben Roundtree knew from a young age that he wanted to be a musician.  He began learning trumpet in the school band at age 10. Shortly after switching to tuba, he joined the church orchestra at age 12 and was part of the orchestra for 30 years, eventually as its director. Ben lives in the Black Forest of Germany with his wife, Erin. They have two daughters: Emily, who loves music and has CHARGE Syndrome, and Elise, a Theater Design major at Anderson University (South Carolina). In addition to offering workshops for church brass choirs (Posaunenchöre), he performs with the State Wind Band of Baden-Württemberg, Quintessenz Brass, and Posaunenchor Rötenberg. As the BellTree Duo, Ben and Erin have performed handbell duet concerts together for over 20 years. Ben has been part of the eurobrass leadership team since 2017.
Years with eurobrass: 2000, 2003, 2012, 2015–2019, 2021–23; Workshop 2009, 2012, 2015, 2018
Tuba
Bernie Tripp
Pittsboro, IN
Bernie Tripp is a Sales Manager with Sharp Business Solutions in Indianapolis, IN. He has been happily married for 34 years and has two grown daughters who both got married in 2022. He started playing brass instruments at the age of 12, starting on trumpet and moving to tuba two years later. Bernie is a graduate of the University of Akron, where he completed a Music Education degree. In his free time, he performs locally in the Hendricks Symphony Orchestra, the Zionsville Community Band, and most recently in the Hoosier Brass Band. He enjoys playing the tuba, outdoor activities, working in his vegetable garden, and spending time with his family.
Years with eurobrass: 1995–96, 2003, 2006, 2010, 2018, 2023